Calling all Software Entrepreneurs!
Mark Edwards is about to embark on a new project to help the homeless in London and needs some help from fellow entrepreneurs.
How it all began..
When travelling into London for business meetings, Mark has always carried his camera. One particular day, he was cutting through an alleyway near London Bridge and walked past a guy who was begging – His name, Mark later found out, was Wayne.
Having walked sytraight past the begging man, Mark hummed and haahed about going back to take a photo of him. Eventually, curiosity about the man and a need to record this all too prevalent element of city life, got the better of Mark and he went back down the alleyway. It turned out Wayne was begging for enough money for his breakfast. After chatting for a few minutes, Mark asked if he could take Wayne's photo if he gave him some money for breakfast.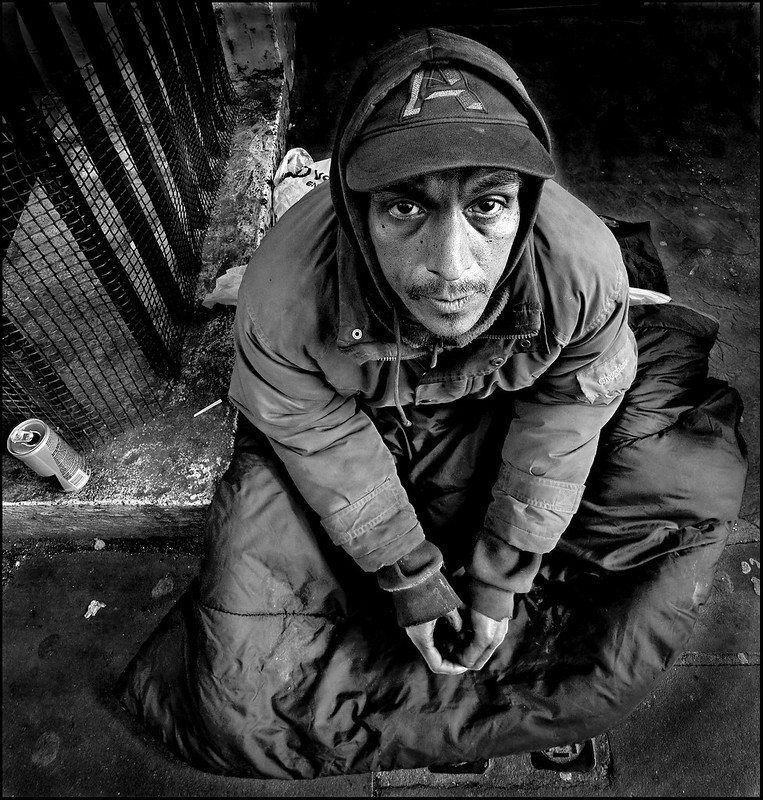 Wayne
The photo generated interest amongst Mark's photography peers and he began taking more pictures of the homeless. It was almost as if, once he was aware of this demographic of disenfranchised people who society didn't really want to acknowledge, he saw them everywhere - Certainly, on every subsequent trip to London – Only on one occasion did somebody say they didn't want their photo taken and, in all other cases, they were people who were happy to chat. and who had a story to tell 
Lennox was one such person, who had found himself homeless  after a relationship break up. A former purchase ledger clerk, he needed some money to spend a night in a hostel, get cleaned up and make a plan to move forward.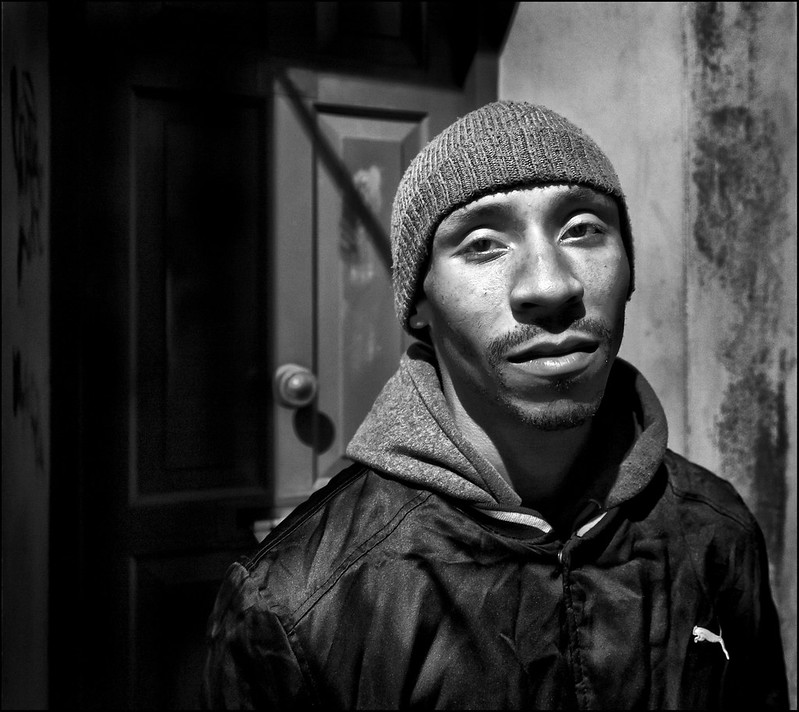 Invitation to St Martin-in-the-Fields
After a while, news got round about the photos Mark was taking of London's homeless people and a lady called Beki Winter, contacted Mark to invite him to visit St Martins in the Fields. She wanted to discuss how their community was helping people out of homelessness and to explore ways they could work together on this; between them, they came up with the idea of creating a coffee table book and selling it to highlight the plight of the homeless as well as raising funds to help in practical ways.
The plan is for the book to include the stories of the individuals who agree to be featured in it - They all have a story, which often highlights - sometimes quite uncomfortably - the ease with which people can slip through the net, out of mainstream society and into homelessness.
Preconceived ideas about homelessness
Mark is the first to admit he had preconceived ideas about homeless people. Although he had some sympathy for their plight, he also believed there was always something they could have done to get a job etc – He believed that, in most cases, they had been the instrument of their own demise - often, he thought, through misuse of  drink and drugs. The scary truth is that the stories he has uncovered are many and varied and most of these people simply need a helping hand to get back on their feet.
After Beki left St Martin's in the Fields, the mantle was passed to Alice Williams, who is equally keen to see this project through to fruition.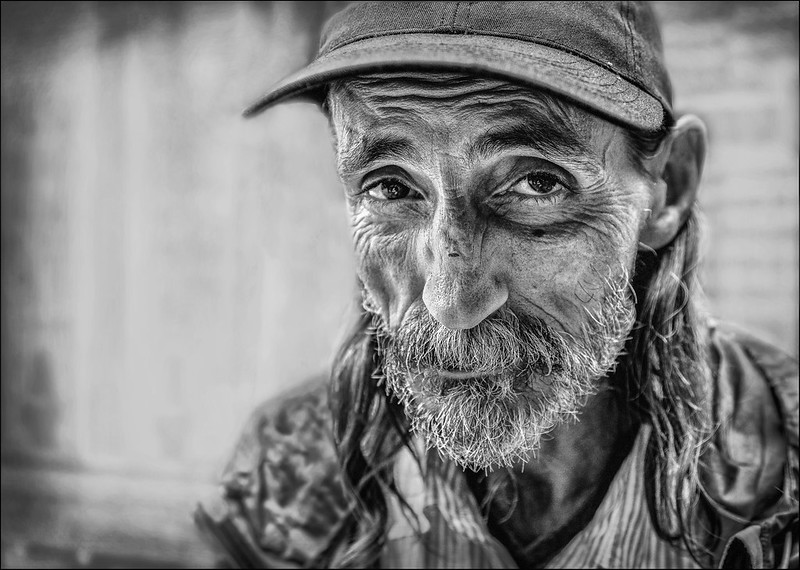 Born into homelessness..
As both his parents were homeless, Rory was born into homelessness. He has lived on the streets all his life and, unsurprisingly, has suffered with mental health issues. Whilst Rory was talking with Mark, he pulled up his shirt to reveal stab wounds, which he says were inflicted while he was sleeping rough. Despite all his troubles, Mark noticed that Rory had a sense of humour and a glint in his eye, captured in the portrait above.
The coffee table book
The idea is to raise awareness and funds by creating a high quality coffee table book of images of homeless people who agree to be involved and to tell their story.
We're reaching out to the innovative software entrepreneurs who may be able to help in a variety of ways. Alex Stepney of Beam is one such entrepreneur, helping via his crowdfunding platform built to support homeless people through training and into stable, paid work.
It's about getting people involved, making connections.
We are certain many software tech entrepreneurs would like to help bring structure and stability to these lives – Maybe via brain training and stress relief tech - or any other tech or app you think could help. 
Social Media has had a polarising effect on society and it would be great to now harness it to narrow the gap between the homeless and the rest of society. 
St Martin-in-the-Field conducted a survey of 70 homeless people to find out what the real issues are and interestingly, the majority - some 90% - owned a smart phone. In a world which is increasingly digitally lead, it's critical that homeless people aren't left behind, if they are ever to have stable lives and regular employment. 
What's needed to complete this project..?
Your network: When the project begins we will need you to spread the word about the activities in this project.
Your technical skills: Do you have technology apps or a platform or tech that you think could help the homeless? - Especially in the area of training. Let us know.
Book Creation: We need a printer who can print a high quality coffee table book. Do you know such a printer or would you be prepared to help fund the printing?
London Exhibition: We will be seeking a London-based exhibition centre. Do you know of a suitable venue for the exhibition? Do you have any contacts that could assist?
Website: During the exhibition and post-exhibition we will require a website that can promote the project, the exhibition and sell the coffee table book. We are thinking of using Square Space. Do you know a better way?
Publicity: Do you know a top quality PR company that would be willing to support this project and promote the different activities?
Buy The Book
If you can't help with any of the above, would you be willing to buy a copy of the book?
If you can offer help or would like to be involved in this project, contact irossedwards@bossequity.com - Thank you for your support.
Links:
https://www.smitfc.org/
https://www.smitfc.org/the-connection-at-st-martins/
https://www.flickr.com/photos/mark-edwards/albums/72157625055972331
https://beam.org/